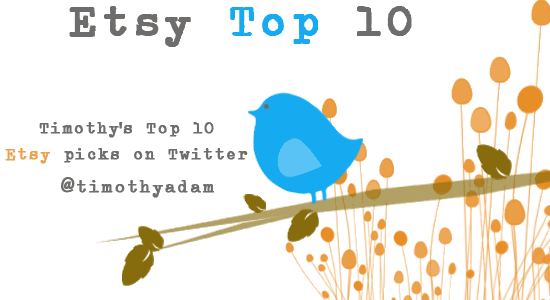 57 weeks.... 570 shops featured, 104,800+ views, and over 57 direct sales that I know of! I just want to thank everyone that takes part in the Top 10.. I look forward every week to looking through all the Etsy shops and picking my Faves!

Etsy Top 10
This past weeks Top 10 items received so far a total of
1956
+ hits
!!!!
Tune in to
my Twitter channel
this Tuesday at 12 pm for the top 10...
The Etsy Top 10 is now being posted on my Facebook fan page:
HERE
(1700+ fans)
__________________________________________________________________
If you would like to have your Etsy shop considered for the Etsy Top 10 Leave a comment on this blog post telling me what item from last weeks Top ten you like best!
Also post your Etsy shop in the Forums >>
HERE
These 2 steps must be taken to be considered for the top 10!
!!!Top 10 Twitter Cha
llenge!!!
Each week the Etsy seller with the most retweets about the Top 10 will automatically be given a spot in the Top 10! All you have to do is hit the "Tweet This" buttons below.. The more you tweet the better!!!
If you create your own tweet make sure you add the #etsytop10 tag!
Add #etsytop10 to all your tweets today before Tuesday at 6pm!
GOOD LUCK!!!!
_________________________________________________________________
Help Spread the word about the Etsy Top 10:
Tune in Tuesday and help retweet all 10 winners!!!
Add
#etsytop10
to your tweets!!!
If you have been featured in the Etsy Top 10.. you can add this button to your blog. Just copy and paste the code below.... Make sure you grab the code from the week you were featured, and it will send your readers to that week and help increase your traffic to your Etsy shop!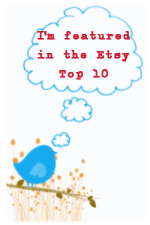 Brought to you this week by :
_________________________________
Handmadeology University Scholarship Program

____________________________
Sign up for my FREE INSIDER tips and tricks click
HERE